SkyView Partners
Identity
SkyView Partners, LLC is an AS/400 Security Company based near Seattle, WA. A former colleague of my mother's at IBM named Carol Woodbury helped found SkyView and they asked me to design a logo for them. After a few days and a dozen failed attempts this is what we decided on:
The logo for SkyView Partners I designed in April 2002. While my initial web site design has since been replaced, this logo is still going strong.
It was a small project, but I met all of my clients needs and worked through many alternative designs in a very small time period.
Web Site v1.0
Though they have since moved on to a JSP, I designed the original SkyViewPartners.com.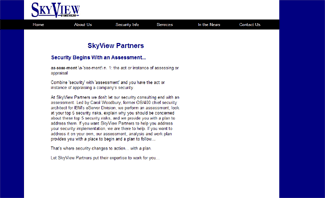 The first version of SkyViewPartners.com existed from April 2002 until sometime in early 2003. Though its table-based design was a mistake, its CSS-driven menu was a strong point.
Contrary to the forward thinking design of HopkinsDance.com, I used tables and a fixed background image in the first design of SkyViewPartners.com. Even in my ignorance I still used CSS to create a horizontal menu with rollovers (no JavaScript required). As the mouse hovered over a menu item the text got bigger, visually highlighting the user's selection. I had no idea I was doing it at the time, but creating a text-only, CSS menu was ahead of its time. They have since become the standard in any web design project.
The "About" option currently has the mouse focus, so the text is larger. This was done completely using CSS to create a visual cue for the user.